Carpet Repair & Restoration Services
Carpet isn't designed to last forever. After a few years of wear and tear, your carpet may begin to break down and appear unsightly. Carpet Restorations Plus can help! Our team of experienced technicians fixes all kinds of carpet problems to give your existing carpet a new life. If you need carpet repair in Canton, OH, trust our team to get the job done.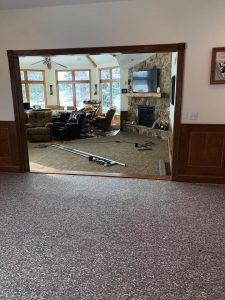 Full-Service Carpet Repair
Accidents and carpet damage happen, but that doesn't mean you're stuck with it for life! With expert carpet repair, your floors can be restored to their former glory and remain protected for many more years.
The Carpet Restorations Plus team has extensive experience working with damaged, discolored or shrunken carpets. After a brief consultation with one of our technicians, we will get to work rectifying the problem, no matter if you need repairing, refastening or carpet stretching in Canton, OH.
Thanks to our decades in the industry, we're experienced in solving all types of carpet problems, including:
Wrinkles
Open or raveled seams
Installations coming loose
Burns or melted areas
Pulled yarns or missing tufts
Bleached spots and discolorations
Ripples and buckles
Patch and plugs
Carpet re-stretching
Seam repair
Pet issues
Loose seams
Cigarette/Cigar burns
Beyond providing carpet repair, our professionals in Canton, OH will give you tips on how to preserve your carpet and minimize further damage or discoloration. Taking great care of your floors not only improves the appearance of your home or business, but it also helps you avoid premature replacement and unnecessary repair costs in the future. Trust our team to make and keep your carpet looking like new.

Schedule Your Carpet Inspection Today
Whether you need a patch and plug, color restoration or carpet stretching, Carpet Restorations Plus in Canton, OH is here to help. Contact us today or call us at 330-458-2409 to schedule an in-person consultation so we can get your carpet repaired as soon as possible!